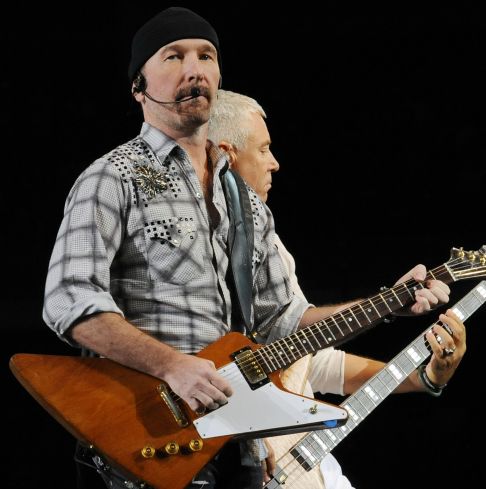 THE EDGE
Birthday: 8th August 1961
Birth Name: David Howell Evans

Height: 5' 8" (1.73 m)
David Howell Evans (born 8 August 1961), more widely known by his stage name The Edge (or just Edge), is a musician best known as the guitarist, backing vocalist, and keyboardist of the Irish rock band U2. A member of the group since its inception, he has recorded 12 studio albums with the band and has released one solo record. As a guitarist, The Edge has crafted a minimalistic and textural style of playing. His use of a rhythmic delay effect yields a distinctive ambient, chiming sound that has become a signature of U2's music.
The Edge was born in England to a Welsh family, but was raised in Ireland after moving there as an infant. In 1976, at Mount Temple Comprehensive School, he formed U2 with his fellow students and his older brother Dik. Inspired by the ethos of punk rock and its basic arrangements, the group began to write its own material. They eventually became one of the most popular acts in popular music, with successful albums such as 1987's The Joshua Tree and 1991's Achtung Baby. Over the years, The Edge has experimented with various guitar effects and introduced influences from several genres of music into his own style, including American roots music, industrial music, and alternative rock. With U2, The Edge has also played keyboards, co-produced their 1993 record Zooropa, and occasionally contributed lyrics. The Edge met his second and current wife, Morleigh Steinberg, through her collaborations with the band.
As a member of U2 and as an individual, The Edge has campaigned for human rights and philanthropic causes. He co-founded Music Rising, a charity to support musicians affected by Hurricane Katrina. He has collaborated with U2 bandmate Bono on several projects, including songs for Roy Orbison and Tina Turner, and the soundtracks to the musical Spider-Man: Turn Off the Dark and the Royal Shakespeare Company's London stage adaptation of A Clockwork Orange. In 2011, Rolling Stone magazine placed him at number 38 on its list of "The 100 Greatest Guitarists of All Time"In 2007,
Edge and Bono began work on a broadway musical, Spiderman: Turn Off The Dark. After years of delays, onstage accidents, cast departures, budget overruns and scathing reviews, the show ended up the most expensive ever staged on Broadway, with total costs of around $65 million. It seems highly unlikely that Edge will ever see any return on his investment! In 2008, Edge got together with Jimmy Page and Jack White to record a guitar documentary entitled It Might Get Loud, which looked at the careers and playing styles of the 3 men and was altogether better received than Spiderman.
*All BIOS should be considered as a collection of information available on line as well as within books related to U2. All copyright claims retained by the original author.