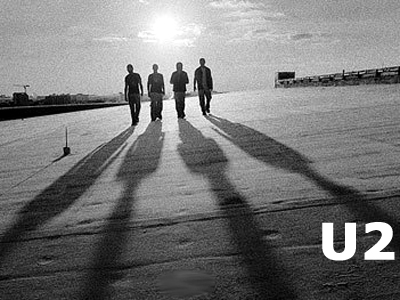 You claim to be a U2 fan, you say you have been to every U2 tour possible and you feel that you are the #1 U2 fan in the world. If you are not than skip this promotion because it is the U2 documentary DVD "From The Sky Down" give away for the real fans.
U2 are an Irish rock band from Dublin. Formed in 1976, the group consists of Bono (vocals and guitar), The Edge (guitar, keyboards and vocals), Adam Clayton (bass guitar), and Larry Mullen, Jr. (drums and percussion). U2's early sound was rooted in post-punk but eventually grew to incorporate influences from many genres of popular music. Throughout the group's musical pursuits, they have maintained a sound built on melodic instrumentals, highlighted by The Edge's textural guitar playing and Bono's expressive vocals. Their lyrics, often embellished with spiritual imagery, focus on personal themes and sociopolitical concerns.
Win your very own copy of "From the Sky Down". Tell us in 500 words the impact of U2 on rock music. Do you think U2 is the face of modern Christian music? How did U2's music affect your life?
U2 wrote songs about things that were important and resonated with their audience, now it's your chance to write your own story on U2.
The details – March 1st thru March 14th we will publish one story per day that we have voted and consider to be a finalist. The story publish will have the facebook voting option setup allowing U2 fans around the world to vote on the story. On March 14th we will publish the top 5 stories and allow you to vote on them. You the fan will select the winner! Runners up will be entered into a runner up promotion and recieve a CD of their choice.
All entries must be submitted by February 29th - U2STORY@u2tourfans.com
Disclaimer: All submissions become the property of U2TOURFANS and will not be returned. The Editor-in-Chief has the final approval on all submission prior to publishing. Fans will vote on the submissions via facebook voting. Stories published will include the by line of the writer and must be orginal work. No cash will be exchanged for prizes. All prizes are shipped direct to the winner.