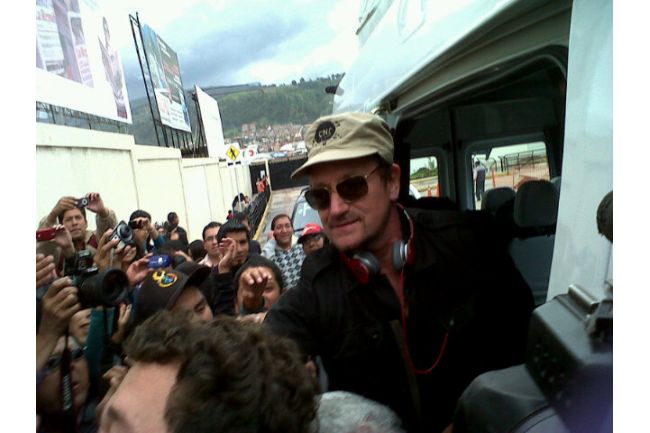 Bono / Peru EVEN in the Lost City of the Incas, Bono is treated like a sun god.
If proof were needed that there is not a corner of the planet where the U2 frontman is not instantly recognised, Bono was cheered by fans high in the mountains of deepest, darkest Peru.
The rockstar is on a week-long holiday to the South American country with his wife, Ali Hewson, and took in a visit to the famed Inca city of Machu Picchu at the weekend. Bono said "I love Machu Picchu is is an impressive place"
He was flanked by local police and security officials as he toured the UNESCO World Heritage site for several hours.
Stunned tourists did a double-take as they saw one of the world's biggest rock stars walking around the 15th Century ruins and were soon following him up the steep trails with their cameras held aloft.
Dressed all in black, with his trademark glasses, peaked cap and carrying a walking stick, Bono stopped to greet fans and seemed unphased by the fuss his visit was creating. He'd even swapped his favourite Cuban heels for a pair of comfy trainers.
The singer has been mobbed by fans since arriving in the capital Lima last Thursday, where he was also met by a large media presence.
He was reported in local media as saying: "I am here with my family to discover this beautiful country for the first time. I am excited, but I'm here with my family so I hope you understand I cannot say hello to everyone."
His group spent a night in Lima before taking a one-hour flight by private jet to the popular tourist town of Cuzco, once the capital of the Inca empire, high in the Andes.
Trek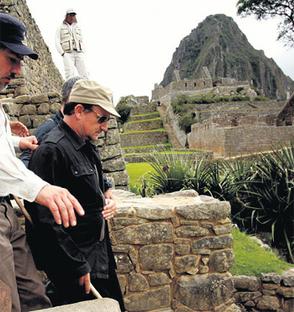 Bono / Peru Many tourists make their way on foot to Machu Picchu from Cuzco, a two- to three-day trek, along the trail built centuries ago by the Incas.
But others, like Bono and his party, take a train to Aguas Calientes, a small town some 80km from Cuzco, which is famed for its natural hot springs. The group would then have travelled the zigzag 6km scenic route up the mountain to the slopes of Machu Picchu.
Bono and his companions were shown around the ruined temples and other structures by a local guide and are understood to have visited some of its best-known attractions, including the Temple of the Three Windows, the Sacred Rock and the Temple of the Sun.
The entire site lay hidden in the mountains for centuries and was only uncovered in 1911.
The rock star's wife Ali has travelled to Peru on business in the past with her ethical fashion brand Edun and sources materials from the South American country.
The couple are expected to leave the country on Wednesday.
- Breda Heffernan