U2 frontman Bono is currently in Israel in what appears to be a private visit, Ynet has learned. Irish singer Paul Hewson, AKA Bono was spotted chatting with five friends at a restaurant in the Jaffa Port on Monday.

U2's front-man Bono caught Israeli music fans and paparazzi off-guard when he dined at a popular restaurant in the Jaffa Port on Monday (April 9).
Local media reports cited today that the musician, also known as Paul David Hewson, is in Israel on a private visit.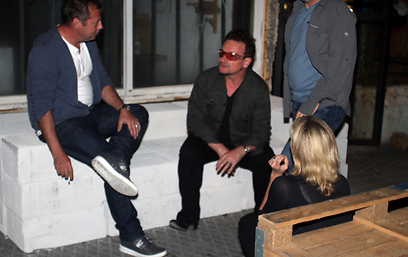 Some reports linked Bono's visit to business ventures - both he and The Edge are investors in the Dropbox company — which has ties with an Israeli high-tech firm. Others cited that Bono - known as a leading human rights activist — may be in town for an international peace conference.
Bono, who is also a human rights activist, announced in February, 2010, that the band would play in Israel the following summer, but it was never arranged, following an outcry from pro-Palestinian groups that urged him to boycott the Jewish state. He had turned down an invitation to play in Israel two years before that.