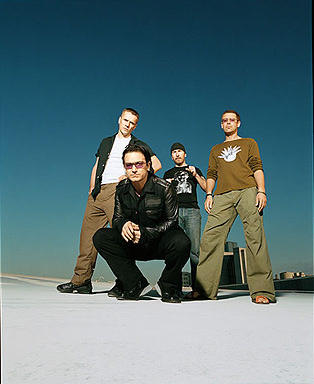 U2's new album 'No Line On The Horizon' is inspired by Led Zeppelin and the White Stripes.
The band's guitarist The Edge has revealed the group were influenced by the legendary British rock band and Jack White after the Irish axe man appeared in a programme documenting the history of the electric guitar with Jack and Led Zeppelin star Jimmy Page.
Speaking about his part in documentary 'It Might Get Loud', The Edge, 47, said: "I was just fascinated with seeing how Jimmy played those riffs so simply, and with Jack as well."
The Edge, real name David Howell Evans, also revealed how he and his bandmates - frontman Bono, bass guitarist Adam Clayton and drummer Larry Mullen, Jr. - took an unconventional approach to making the record, which is released in March.
The Edge: "It started just with me playing and Larry drumming, and we took it from there. It's very raw and very to the point. It's like rock'n'roll 2009!"
Meanwhile, The Edge has revealed the scheduled opening date of the new 'Spider-Man' musical he has been working on with Bono, director Julie Taylor and scriptwriter Glenn Berger.
He said: "It is happening. It's a pretty good state, and I hope it will be open this year. We are not sure where in the world but most likely it will be in New York."