Byline:Rafaella Gomez - Brazil
Ali Hewson"I don't want to end my life feeling I've only looked after myself, that everything I did was to protect myself. I want, when I die, to believe that I've achieved what I was supposed to achieve, that is, to help other people in whatever way I could."
It was the first morning of the rest of her life. Dark-haired, dark-eyed 12-year-old Alison Stewart no sooner arrived at Mount Temple Comprehensive School in Dublin than Paul Hewson, a grade above her, spotted the new girl.
"He worked very hard at being the heartthrob," she recently told an English journalist.
"He came up to me within the first day and asked did I know where his class should be going? It was just an excuse to talk to me, and I thought, 'What an eejit.'
"I remember that on the fourth day of school, I saw him walking across the courtyard and it was, bing! That is the guy for me."
For a year, he pursued while Ali, determined not to be just another of his girls, was cool. But the next year, Paul's mother died suddenly of an aneurism. That year, Ali, 13, helped Paul — from washing his clothes and cooking his food to keeping track of his house keys and walking with him to school.
They began dating in November 1976, when Ali was 15. Paul is now world-famous as the Irish rock group U2's lead man and humanitarian-at-large, Bono.
He told talk-show host Larry King years later: "I joined U2 and I started going out with Ali, so it was a good month."
When Ali was 21, and Bono was 22, they married. They have four children, aged six to 18, whose names reflect religious values and the strong Christian theme in U2's music: daughters Jordan and Memphis Eve, and sons Elijah Bob Patricius Guggi Q (partly named for friends) and John Abraham.
"It is hard, sometimes. I hate being called 'Bono's wife,' and being identified just as that," she said in 1993. She has avoided public attention "I'm very protective of my kids, and of my life with Bono. It has worked well up to now, the sort of life (in which) I can go out and do the normal sort of stuff, and he can take all the heat. I'd rather work behind the scenes."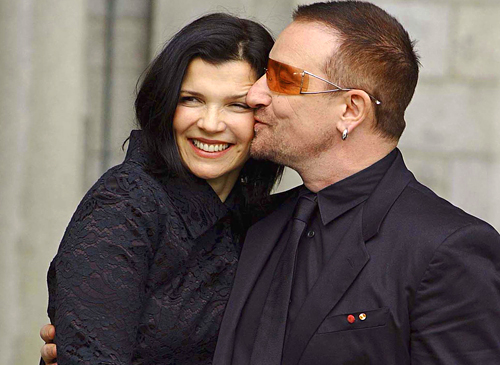 Ali Hewson / BonoOver the years, she has left obscurity and 'Mrs. Bono' behind. Her work started after U2 joined rocker Bob Geldof in his first Live Aid concert to raise money for starving Ethiopians.
"The children out there had nothing, nothing, yet they seemed to be really alive spiritually. For me, the culture shock was in coming home, back to supermarkets full of food and children who seemed spoiled, who had everything, and yet were so starved of spirituality and any understanding of what life was about."
She gave up her dream of a four-year nursing degree to keep the relationship strong as Bono and U2 topped charts worldwide.
Ali Hewson In 1989, at age 28, she graduated with a degree in social and political science, giving birth to their first child, daughter, Jordan, two weeks after her final exams.
Though the Hewsons have homes around the world, they strive to raise normal, unspoiled children in their large Killiney home in south County Dublin where they overlook the Irish Sea.
Being a single mother while U2 toured for months, even years, "is as hard as it is for any single parent," she said. "But then, the difference is that if something goes completely wrong, I can just phone Bono. He's probably one of the best psychologists I know. He always comes through for me."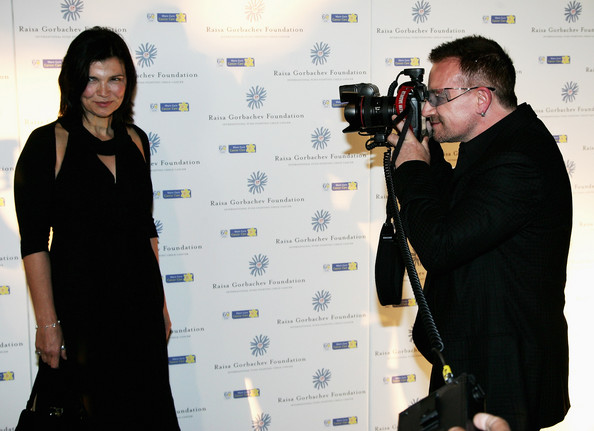 Ali Hewson / BonoBeing a mother, Ms. Hewson said, started her involvement with Greenpeace's campaign against contamination by England's Sellafield facility, which lies 200 kilometres across the Irish Sea. To protest building THORP, a nuclear reprocessing centre at Sellafield, she organized a 1992 stunt in which U2 and Greenpeace donned radiation suits and transported drums of "contaminated mud" from the Irish Sea to the nuclear site perimeter.
In 1993, seven years after the Soviet nuclear power plant, Chernobyl, exploded in Ukraine, she made her first trip to Belarus, where 70 per cent of the contamination fell.
There, she said, four million children suffer from leukemia and other cancers and genetic deformities. It was her first of many gruelling 5,600-kilometre trips — sometimes driving one of many ambulances filled with medical supplies.
She was working for Chernobyl Children's Project, which provides care for children, many of them abandoned, deformed and dying from "Chernobyl AIDS."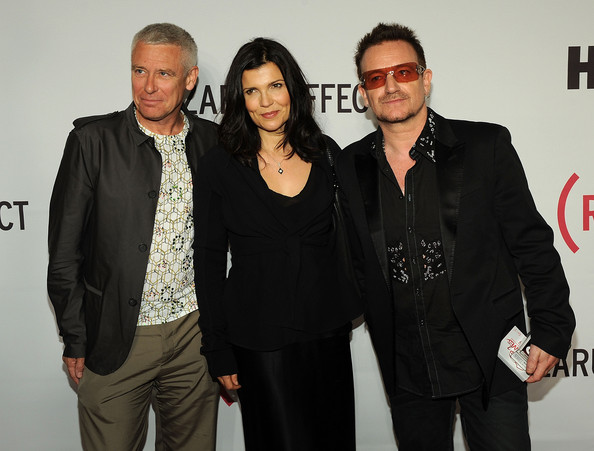 Adam Clayton / Ali Hewson / BonoProject founder and former Irish presidential candidate Adi Roche has been the driving force for dozens of medical convoys, for thousands of children who recuperate in Ireland, for surgeries and transport of hundreds of dying children from Belarus to actor Paul Newman's camp at Barretstown Castle in County Kildare.
The Hewson-Roche team, and others, spent three weeks in Belarus in 1993 where they filmed in high-radiation exclusion zones to make the award-winning documentary Black Wind, White Land — Living with Chernobyl.
They filmed children, among them nine-month-old Anna. "Both her legs are short. Both her ears are closed," said Ms. Hewson.
"I just picked her up and it's just one of those things where we bonded." She has been adopted by an Irish family and is Ms. Hewson's goddaughter.
In 1996, Ms. Hewson was part of an Irish aid convoy to Belarus and Western Russia to mark the 10th anniversary of the (April 26, 1986) Chernobyl explosion. Chernobyl's estimated toll ranges from 50 direct deaths and 4,000 eventual deaths to more than 500,000 deaths and nine million people affected.
In 2003, she narrated Chernobyl Heart, a film about the suffering left by Chernobyl, which won an Oscar in 2004 for best documentary.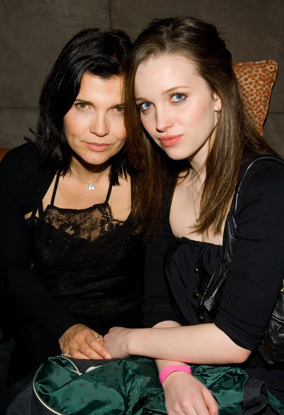 Ali Hewson / Jordan In 2002, she headed a 1.2 million-postcard protest directed at then-prime minister Tony Blair, Prince Charles and the head of British Nuclear Fuels demanding that Britain close Sellafield because of its failed safety record and periodic nuclear contamination of air and water over decades.
"Sellafield has the potential to be 80 times the size of the Chernobyl accident," she said.
(Britain had to shut down THORP in 2005 after a massive internal leak went undetected for nine months. It plans to reopen this year for another three years, over objections from Ireland, Iceland, Norway and Austria.)
"There are people being born with Down syndrome and higher numbers of leukemia cases on Ireland's east coast," said Ms. Hewson, "but research is not being done into this." Since 9/11, she has noted: "The 75 tonnes of plutonium sitting on its site can't but be at the top of any terrorist's list."
In 2005, she, Bono and New York designers Rogan Gregory and Scott Hahn started a Fair Trade organic clothing label EDUN — nude spelled backwards to suggest natural and Eden. (The Hewsons are shareholders in an organic food chain called Nude.)
"Bono's biggest impression of the Africans is that they don't want charity. They want trade," says Ms. Hewson. "If you have it made in Africa, you create trade there, you can create jobs there."
"Rich countries subsidize their own agricultural sectors by about $1 billion per day," said Ms. Hewson at EDUN's launch. She cited the $4-billion annual subsidy the U.S. hands its cotton farmers. "Then they flood the market with (cheap) cotton. It's unfair. It's a false economy and just crushes African farmers."