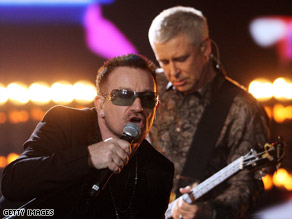 Several readers have let us know that Amazon.com is selling downloads of No Line On The Horizon for only $3.99. We think this is a one-day deal. Here's the link. Look over to the right and follow the link.
It offers up a few new hits for the wedding playlist, but No Line on the Horizon is mostly restless, tentative and confused. It's not terrible, but it feels like the work of musicians torn between the comfort of the present and the lure of one last run into the adventurous past.
Now lets break down each song, one by one
"Stand Up Comedy"
Another hard rock tune, powered by an unexpectedly slinky groove and a riff that lands between the Beatles' "Come Together" and Led Zep's "Heartbreaker." Edge recently hung out with Jimmy Page and Jack White for the upcoming documentary It Might Get Loud, and their penchant for blues-based rock rubbed off: "I was just fascinated with seeing how Jimmy played those riffs so simply, and with Jack as well," he says.
"Crazy Tonight"
"It's kind of like this album's 'Beautiful Day' — it has that kind of joy to it," Bono says. With the refrain "I know I'll go crazy/If I don't go crazy tonight," it's the band's most unabashed pop tune since "Sweetest Thing."
"Unknown Caller"
This midtempo track could have fit on All That You Can't Leave Behind. "The idea is that the narrator is in an altered state, and his phone starts talking to him," says the Edge.
"Tripoli"
This strikingly experimental song lurches between disparate styles, including near-operatic choral music, Zooropa-style electronics, and churning arena rock.
"Cedars of Lebanon"
"On this album, you can feel what is going on in the world at the window, scratching at the windowpane," says Bono, who sings this atmospheric ballad from the point of view of a war correspondent.
"Magnificent"
"Only love can leave such a mark," Bono roars on what sounds like an instant U2 anthem. Will.i.am has already done what Bono calls "the most extraordinary" remix of the tune.
"Moment of Surrender"
This seven-minute-long track is one of the album's most ambitious, merging a Joshua Tree-style gospel feel with a hypnotically loping bass line and a syncopated beat.
"Every Breaking Wave"
A swelling soul-pop song, with bright synth sounds influenced by OMD and, Bono says, "early electronica." "You don't hear indie bands doing blue-eyed soul [like this]," he adds.
"No Line on the Horizon"
The title track's relentless groove began as a group improvisation. "It's very raw and very to the point," says the Edge. "It's like rock & roll 2009."
After reading I thought I might want to re-listen and gain some understanding that I may have missed, most often I need to listen a few more times to get it right.