VANCOUVER, BRITISH COLUMBIA: Tim Durkan
First and foremost - those of you planning to see U2 on their innocence + experience World Tour are in for a magical, one of a kind experience that you'll never forget.
It's been Nearly 4 years since their hugely successful 360 Tour wrapped up here in Canada and here is where
they'd open up their widely anticipated tour for capacity crowds in Vancouver B.C.

There had been a lot of speculation about possible delays after Bono's serious accident earlier
this year and followed by last week's passing of Larry Mullen's father - but the band pressed on.
After 5 weeks of intense rehearsals here in the mountain town renowned for it's warm hospitality, U2 signaled to the world that they are not only up for the rigors of a world tour - they
are excited to perform.

With no opening acts scheduled, the band finally took the stage and Thursday and Friday nights
to very receptive and capacity audiences. Opening night had them breaking into their signature song off the new album "Miracle (of Joey Ramone) followed by 'Out of Control' 'Vertigo' and 'I will Follow'. It was clear the band was ready to give the crowd what they came for - a mix of new songs, signature favorites and a level of emotion that only grew with every song.
Admitting his last few months of recuperation were tough, Bono thanked the doctors who took care of him and told the crowd he wasn't going to 'stay in the past too long' as he and the band had their sights set on the future. Having recently voiced the band's concern over maintaining relevancy after nearly 40 years of making music, Bono also alluded that this tour was to be much more intimate and scaled down from the massive 360 production - almost as if he was trying to curb our expectations in
advance. Well played Bono!

Within 10 minutes of their opening night, the band showed they are still more than capable of
thrilling fans worldwide - and more importantly that they still care about making great music.
Their nerves seemed to settle also as they broke into their first live performance of 'Iris' (a
moving song about Bono's mother), 'Cedarwood Road' (reflections of growing up in 70's Dublin)
and 'Song for Someone' (an ode to Bono's wife). Any concerns someone might have had about
an 'irrelevant' or 'predictable' U2 would quickly evaporate as a dazzling, high-def curtain of
animated lights descended from the ceiling to recreate in colorful fashion both whimsical and
poignant moments along the band's journey over the years.

U2 combined this spectacular display with songs from the new album in spectacular fashion as homage was paid to those people and events which influenced over the years. Lennon, Bowie, Sex Pistols, David Byrne, Lou Reed, BB King, The Ramones and many others all played an important part in making U2 who they are today - and they recognized that fact in grand fashion.

Equally profound was the way in which they honored the notion of peace and love - love of
parents, friends, family, hometown and the memories that clearly inspire them every day.
The band performed segments of the show inside this semitransparent curtain of lights along a
narrow walk way leading to another stage on the opposite side of the arena. U2 has always
been known for their close interaction with their audience over the years and this tour is
probably the best ever in that respect.
It was on opening night that The Edge pushed that experience to the max when he accidentally stepped off the stage and into the audience below - a move that left him a little bruised and embarrassed but otherwise ok - thank goodness! Bono had a little fun with the guitarist's misstep the following night when he and the other bandmates offered to accompany The Edge down the same walkway to ensure his safety. The quip caused The Edge to break out in a big smile and the audience to have a laugh with the band - life happens, even to rock stars.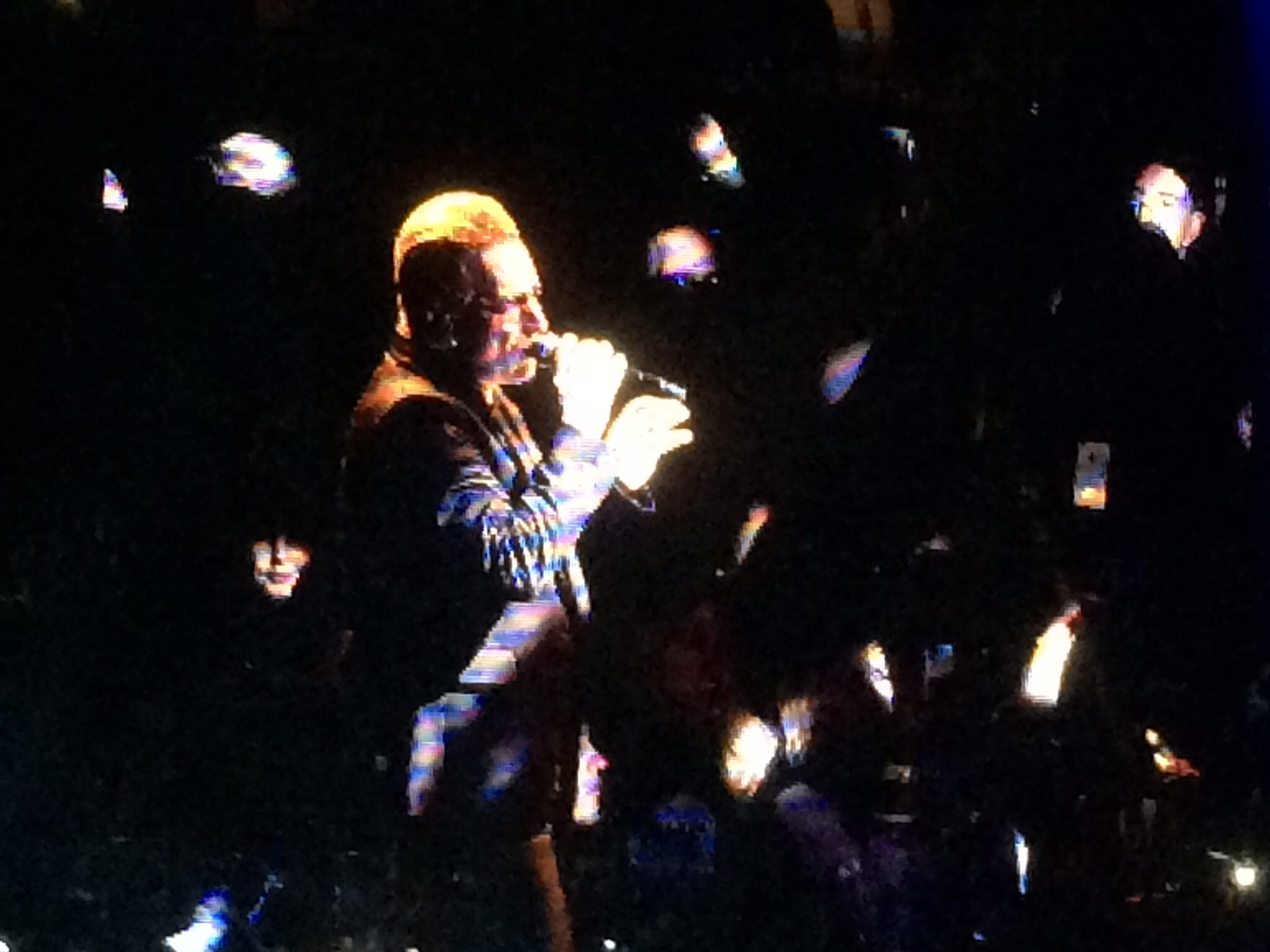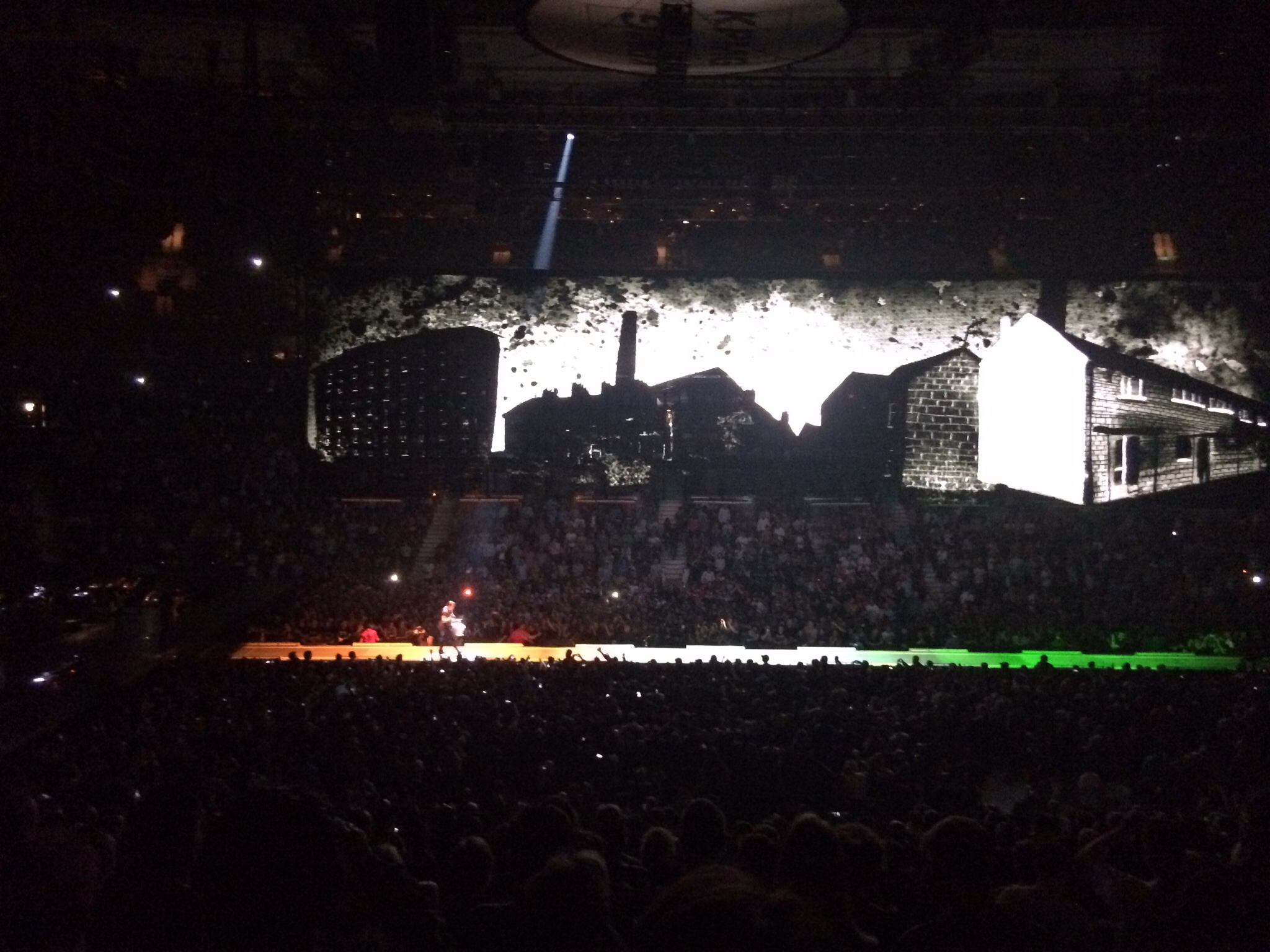 Both nights saw the show really begin to take shape and flex it's personality during renditions of
'Sunday Bloody Sunday' and 'Raised by Wolves'. It was at the end of 'Wolves' that a tribute to the 33 people killed in the 1974 Dublin car bombings was presented when the faces of those killed were presented along the 100 foot screen - a somber, powerful moment.
Equally strong towards the end of both shows was Bono's (positive) message to get involved with their red.org in an effort to eradicate HIV worldwide, a worthy goal to be certain. This while a touching rendition of 'Where the Streets Have No Name' began to play which really got the audience dancing in the isles.
U2 took a considerable amount of heat over the release of this new album, but at the end of the
day their music and performance during this tour remains faithful to the overall 'soul' of the band
- and that is the key to their long success. Yes there may be a few missed notes, improvised
lyrics and technical glitches but it's precisely why we love them so much - they're real. And in a
world of overly produced and formula driven musical 'talent' where over-hyped news (mostly
bad) travels faster than an automatically downloaded album - U2 has managed managed to
remind us all that being relevant in any aspect of life means taking risks, remembering your
roots and staying true to one's self. Thank you for that gentlemen.

Tim Durkan is a photographer and music enthusiast from Seattle Wa.
He first saw U2 perform in 1987 during their Joshua Tree tour in Ireland and has since seen
them in 4 countries over the last 30 years. Please feel free to visit him on Facebook at
facebook.com/timdphotos or timdurkan.com